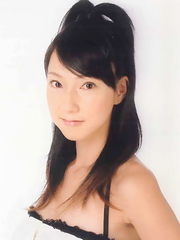 Yūko Miyamura
(宮村 優子 Miyamura Yūko) (born December 4, 1972) is a Japanese voice actress, actress, J-pop singer and director of audiography. Her married name is Yūko Seki (関 優子 Seki Yūko), although she still works under her maiden name. Miyamura was born in Kobe, and graduated from the theater division of the Tōhō Gakuen College of Drama and Music. Her pet name is Miyamū (みやむー Miyamū). She is married to stuntman Takayuki Seki and has two children: one daughter (born in 2004) and one son (born in 2011). She is best known for her roles as
Asuka Langley Sohryu
in
Neon Genesis Evangelion
,
Asuka Shikinami Langley
in
Rebuild of Evangelion
, Kazuha Toyama in Case Closed, and Angel Daisy/Hinagiku Tamano in Wedding Peach.
Miyamura has also released various CD albums as a singer. Additionally, she also had a short on-screen role in the movie Battle Royale as the video announcer of the event's rules. She is affiliated with Techno Sound as a sound director and Japan Action Enterprises as a seiyū. Miyamura was diagnosed with Graves' disease in May 2007 after suffering exophthalmos. She is currently living in Melbourne, Australia.
A selection of other characters voiced by Yuko Miyamura
Edit
Great Teacher Onizuka as Nanako Mizuki (ep. 1)
Hyper Police as Natsuki Sasahara
My-HiMe as Alyssa Searrs
NieA 7 as NieA
Outlaw Star as Aisha Clanclan
Those Who Hunt Elves as Ritsuko Inoue
and many others...
Appeared as a presenter in the live-action film adaptation of the novel Battle Royale (2000)
In September 2007, a thyroid condition called Grave's Disease nearly sidetracked her voice-acting career, as described in her blog entry. Despite this debilitating disease, miraculously "Miyamoo" was able to make a voice-acting comeback for Evangelion 2.0 and the remaining installments of Rebuild of Evangelion.
Currently living in Melbourne, Australia, with husband/stuntman Seki Takayuki and a 5-year-old daughter.
Community content is available under
CC-BY-SA
unless otherwise noted.