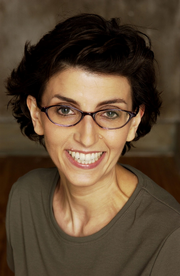 Tiffany Lynn Grant (born October 11, 1968 in Houston, Texas) is an American voice actress and script writer who is known for her English-dubbing work for ADV Films on such anime films and television series as Neon Genesis Evangelion, in which she voiced the character Asuka Langley Sohryu.
Grant enjoyed her role as Neon Genesis Evangelion'´s Asuka so much that she briefly reprised the character in the radio plays and fan-produced anime derived from the fan fiction series Neon Genesis Evangelion: R, as well as cosplaying as Asuka (in Asuka's familiar red Unit-02 plugsuit and her school uniform) at anime conventions, and owning a large collection of merchandise related to her character (as shown on a Platinum Edition DVD featurette). She reprised the role of Asuka in Funimation's Evangelion 2.0: You Can (Not) Advance. Grant was born in Houston, Texas. She is married to producer/director Matt Greenfield, co-founder of ADV and also a voice actor. (Voice of Makoto Hyuga in Neon Genesis Evangelion under the pseudonym Brian Granveldt.)
Other roles
Edit
Some (but not all) of Tiffany Grant's roles include:
Air as Potato
Angelic Layer as Sai Jounouchi
Azumanga Daioh as Kaorin
The Wallflower as Sunako's Aunt
Wandaba Style as Susumu Tsukumo
Xenosaga: The Animation as Juli Mizrahi
Community content is available under
CC-BY-SA
unless otherwise noted.