An S² (Super Solenoid) Engine (S²機関, S² Kikan) is a source of power from Neon Genesis Evangelion.
Profile
Also referred to as an S² Organ, the S² engine is an organ located within the core of an Angel[1] which grants it limitless energy at no cost. While not born with them, Evangelion can make use of S² Engines,[2] freeing them from the need for their internal batteries of umbilical cables.
The name comes from Dr. Katsuragi's Super Solenoid Theory.[3] He had intended to create an actual device ("S² Engine") based on the principles established with his theory and verified with Adam's power source, but this never came to be.[4][5] Despite his failure, after Dr. Katsuragi's death the S² Engine would eventually be perfected and produced in secret by SEELE for use with the Mass Production Evangelion.
Why the name "engine" was applied to what is unarguably a flesh-and-blood organ[6] is never stated. It appears consistent with the show's tendency to disguise the inherently biological with terms of mechanical connotation. Incidentally, written with different kanji, 器官, "kikan" does mean "organ", providing a bit of wordplay that doesn't translate into English.
History
A mostly-intact S² Engine is obtained from the corpse of Shamshel and sent to Germany for further study by the Third Branch's Energy Analysis Unit.[7] After the S² Engine is restored, NERV's Second Branch in Nevada undertakes an experiment to install it into Unit-04, which results in the disappearance of the Eva, related facilities, and everything and everyone else within an 49-kilometer radius, swallowed by a Sea of Dirac.[8]
Despite the loss of the restored organ, the research data is preserved in Germany and progress towards completion of the Mass Production Evangelion outfitted with artificial S² Engines continues.[9]
A berserk Unit-01 is eventually able to obtain an S² Engine from the Angel Zeruel by physically devouring the organ and assimilating it as its own.[6] According to SEELE, this acquisition makes Unit-01 an "absolute being" and the living embodiment of a god.[10] The S² Engine is said to be the only thing (aside from, presumably, a soul) required to "complete" an Eva and bring it to a level of existence equal to Adam's.[4]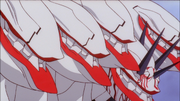 During the invasion of NERV Headquarters by the JSSDF arranged for by SEELE, the nine completed mass production Evangelion, each outfitted with a fully operational artificial S² engine, are dispatched to stop Evangelion Unit-02. During their battle, Unit-02 seamingly manages to destroy all the mass production units. However, because their engines remained intact, the units were able to reactivate and completely destroy Unit-02.
Trivia
The "Fruit of Life" is considered an alternate term for "S² Engine",[4] and exists in contrast with Fruit of Knowledge. According to Fuyutsuki, Unit-01 had attained power equal to that of a god's upon acquiring both Fruits.[11] The Fruit of Life is a reference to Tree of Life of Genesis, the fruit of which was said to bestow immortal life.
An intact S² Engine is never seen in the show, although it is known to be double-helical in structure, much like DNA.[4] (Regular solenoids are shaped like spirals.)
References