This article largely borrows its content from another wiki, such as Wikipedia or EvaGeeks. Substantial cleanup and reformatting may be needed.
This article has a collection of images to further represent its content. To see its gallery, visit Neon Genesis Evangelion Proposal/Gallery.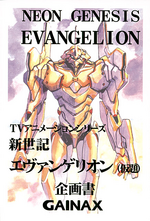 The Neon Genesis Evangelion Proposal (企画書, kikakusho) is a 35-page, full-color document created in 1993, 2 years before the show's TV airing, for promotional purposes. It is essentially a prototype for the series, complete with production illustrations; notes on theme and story; write-ups on characters, mecha, and setting; and short summaries for the planned twenty-six episodes.
33 of its pages are printed, as 6 cm x 8.5 cm thumbnails, in Neon Genesis Evangelion Newtype 100% Collection (with 33 and 34 omitted, and page 35 labeled as 33). All 35 are reprinted full-size in Evangelion Chronicle, as 35 separate leaves, each with supplemental commentary on its opposite side.
Only translations of isolated pages are available at this time. See the translation page, or check individual availability in the Contents section.
Differences
Edit
Numerous changes would be made between the Proposal and the final version of the show. An incomplete listing follows:
Characters
Edit
Evangelions
Edit
Apostolos
Edit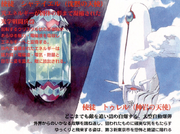 Miscellany
Edit
Community content is available under
CC-BY-SA
unless otherwise noted.