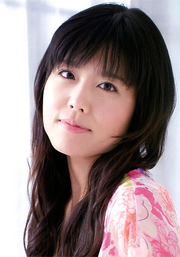 Miyuki Sawashiro (沢城 みゆき Sawashiro Miyuki, born June 2, 1985 in Tokyo) is a Japanese voice actress and singer who works for Mausu Promotion.
She voiced Puchiko in the English dubbed releases of Di Gi Charat the Movie and Leave it to Piyoko, making her one of the few Japanese voice actors to have reprised a role in English in addition to the original Japanese performance. She was not able to record for the English dub of the Di Gi Charat TV series because of a scheduling conflict.
A selection of other character voiced by Miyuki Sawashiro
Edit
Nisemonogatari as Suruga Kanbaru
Deadman Wonderland as Toto Sakigami
Angel Beats! as Masami Iwasawa
Zan Sayonara Zetsubō Sensei as Maria Tarō Sekiutsu
Strike Witches as Perrine-H. Clostermann
Bayonetta: Bloody Fate as Cereza
Corpse Party: BloodCovered as Ms. Yui Shishido

Danganronpa - Toko Fukawa/Genocide Jack
Go! Princess Precure - Cure Scarlet
Community content is available under
CC-BY-SA
unless otherwise noted.