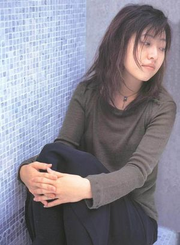 Megumi Hayashibara (林原 めぐみ Hayashibara Megumi) (born March 30, 1967) is a Japanese voice actress, singer, radio personality, and lyricist from Tokyo. She is currently affiliated with Aksent. Her nicknames include: Megu-san, Megu-nee, Bara-san, Kakka, and Daijin. She is best known for her roles in Ranma ½, Neon Genesis Evangelion, Cowboy Bebop, Slayers, Detective Conan, Pokémon, All Purpose Cultural Catgirl Nuku Nuku and Shaman King. She is also a fully qualified and registered nurse.
Biography
Megumi Hayashibara was born on March 30, 1967 in Tokyo, Japan. She studied at a Catholic school, and at one point was bullied in fifth grade. She was an active club member and participated in the Badminton, Biology, Broadcasting, Drama, and English clubs. She played the role of Alice in an English language production of Alice in Wonderland. Despite qualifying as a nurse, she has never been employed in a nursing position.
On March 30, 1998, she married. On January 10, 2004, she announced on her radio show that she was pregnant with her first child. On June 28 of the same year, she gave birth to a daughter through emergency caesarian section.
A selection of other roles played by Megumi Hayashibara
3 x 3 Eyes as Pai
All Purpose Cultural Cat Girl Nuku Nuku as Atsuko / Nuku Nuku
Blue Seed as Momiji Fujimiya
Card Captor Sakura: The Movie as Madoushi
Cowboy Bebop as Faye Valentine
Detective Conan as Ai Haibara
Di Gi Charat as Piyoko / Piyokola
Donkey Kong Country as Diddy Kong (only on the Japanese Dub)
Hello Kitty as Hello Kitty
Lost Universe as Canal Volphied
Love Hina as Haruka Urashima
New Danganrona v3: Killing Harmony as Shuichi Saihara
Paprika as Paprika / Doctor Atsuko Chiba
Ranma 1/2 as Ranma Saotome (female)
Saber Marionette J as Lime
Sailor Moon S Movie as Himeko Nayotake
Slayers as Lina Inverse
Tenshi Na Konamaiki as Megumi Amatsuka
Yu Yu Hakusho as Genkai (young)
and many, many, others...
Notes
Prior to her seiyuu career, which began with her picking up a magazine with an advertisement for a seiyuu audition, Megumi is a certified nurse.
Has consistently topped Animage's Seiyuu Gran Prix polls for twelve years.
Is one of the few seiyuu who has the privilege to pick and choose specially-made voice roles.
In addition to voice acting, as a singer Megumi also secured sales of 2.5 million singles and 1.5 million albums since 1991.
As a radio talk show host, her two programs -- Heartfelt Station (Radio Kansai) and Tokyo Boogie Night (TBS) -- are one of the longest-running.
External Links