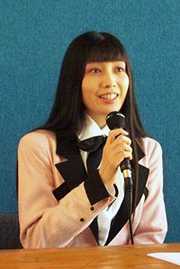 Shigeyo Kawamura
(川村 繁代 Kawamura Shigeyo, born November 21, 1961 in Tokyo), better known by the stage name
Maria Kawamura
(川村 万梨阿 Kawamura Maria), is a Japanese voice actress. Kawamura is a freelancer and was a former affiliate of Arts Vision.
On November 8, 1991, she married Japanese manga artist Mamoru Nagano, of Five Star Stories fame. Kawamura's most well-known roles include Chum Hau in Aura Battler Dunbine, Gaw Ha Leccee in Heavy Metal L-Gaim and Naga the Serpent in Slayers.
A selection of other characters voiced by Maria KawamuraEdit
Assemble Insert (1990) as Kagairi Sonoba
Aura Battler Dunbine (1983) as Chum Huau
Gunbuster (1988) as Jung Freud
Mobile Suit Gundam: Char's Counterattack (1988) as Quess Paraya
Revolutionary Girl Utena (1997) as Mamiya Chida and Silhouette Girl A
Slayers as Naga the Serpent
Community content is available under
CC-BY-SA
unless otherwise noted.