"
Smells good, the scent of LCL.
"
—Mari
Mari Makinami Illustrious (真希波・マリ・イラストリアス[?], "Makinami Mari Irasutoriasu") is a fictional character from the Rebuild of Evangelion movie series. She is an Evangelion pilot and third party operative introduced in Evangelion: 2.0 You Can (Not) Advance.
Appearance
Mari has brunette hair tied into twin-tails with bangs parted to the sides. She wears an indigo headband with a white robotic design. Her eyes are teal, and she wears burgundy rimmed glasses. She wears a white shirt with a symbol on the left breast, a dark grey tie, a red and green pleated skirt with black knee socks, and brown tassel loafers.
She wears pink plugsuits with stylized accents and 05 and 08 both imprinted on the plugsuits.
Her first plugsuit was dark green with many accents, and she would wear a helmet with it.
Profile
Out of all the pilots, she is the only one who admits that she genuinely enjoys piloting. Her repeated comments suggest that she enjoys the smell of LCL. She's uninhibited, identifying Shinji as a pilot in their first encounter by crawling up to him on all fours and sniffing for the smell of LCL. It is implied that Mari works for an unknown third party. A pilot designation has not been provided, assuming Mari officially has one (in-universe).
Despite her apparent inexperience, she is shown to be an expert pilot on the level of Asuka, if not higher.
In Evangelion: 3.0+1.0 Thrice Upon A Time, her quarters with Asuka on the Wunder are also a sort of isolation chamber, furthering Asuka's estrangement from humanity.[2]
Personality
Mari has a rather energetic and enigmatic personality, and is generally in a positive mood. She enjoys piloting her Evangelion, Evangelion Provisional Unit-05, and sometimes sings to herself in the entry plug. She is also very friendly, though in combat she is shown to be extremely aggressive.
In addition, Mari is very noble in her fight against the Third Angel, being willing to sacrifice her life to destroy it by self-destructing her Eva. In the end, however, the entry plug ejected seconds before the explosion that would have killed her.
History
In Mari's first engagement with the Third Angel, she used no tactics whatsoever. The fight instead featured her attacking the Angel head-on, chasing it outside of the base and pinning it down before self-destructing. She also appears to be aware of the Evas' sentient nature to some extent, going so far as to directly addressing them in a compassionate tone and even whispering goodbye to Unit-05 after its destruction. This makes it unlikely that she was the one who sabotaged it, although her being an acquaintance of Ryoji Kaji is suspicious.[3][4][5][6][1][7][8]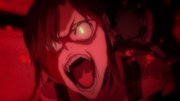 When the Tenth Angel attacked Tokyo-3 at the end of the movie, Mari launched Evangelion Unit-02 with IPEA assistance to engage in battle, intercepting the Angel inside the Geofront while dual-wielding pallet rifles. Unlike Asuka's repeated attempts at damaging the Angel in the series however, Mari quickly gave up on ranged attacks and went into a screaming charge with a GB-012 Evangelion Custom Electrical Discharge Portable Ordinance "Thunder Spear"[9], leaping onto the Angel and firing Unit-02's needle guns in an unsuccessful attempt to penetrate the Angel's AT-field with a point-blank attack. In the English dub, she is quite foul-mouthed, constantly taunting her opponents while piloting.
She also demonstrated considerable knowledge about the inner workings of Evangelions by activating Unit-02's Beast Mode (which resembles a "controlled berserk"). During this, she demonstrated a bloodthirsty, animalistic behavior not unlike that of the Eva, and despite the heavy damage sustained, she never once attempted to retreat but pressed her attacks until her Eva was damaged beyond combat capability.
Mari uses two distinct plugsuits over the course of the film. The first is the unusual green and white suit that appears to be custom-built for Unit-05, with different material on the limbs (corresponding to the Eva's mechanical prostheses) and three green tubes attached to each wrist (probably involved in the "forced synch" with the prostheses). The second plugsuit, worn for Mari's sortie in Unit-02, is a pink one with white trim very similar to Kaworu's. Despite her change in Evas, her new plugsuit still bears a 05, suggesting it may have been intended for use with that unit once it would have been fully completed.
In Evangelion: 3.0 You Can (Not) Redo, Mari pilots the Evangelion Unit-08 to aid Asuka during the mission to rescue Unit 01. Before launch, Asuka is reciting a poem[10] before being surprised by Mari, wearing her school uniform and asking her if she agrees the Moon is beatiful.[11]Mari asks Asuka if she agrees that the moon is beautiful.[12] Mari explains she wants Shinji to be able to easily recognize them once he's recovered. Misato's plan is for Mari to lead the operation with Asuka in support, as her Unit-08 is less damaged, but Mari suggests Asuka take the lead instead for Shinji's sake. Asuka however is reluctant, and believes Shinji himself dead and unrecoverable. Looking back on memories of Shinji and Misato before Third Impact, Asuka changes her mind, and puts on her old plugsuit from the previous film and improvises a repair. Mari sings to Asuka as they launch.[13][14] Later, she tries to stop Evangelion Mark.09 but only manages to destroy its head. She's shown to have a habit of giving nicknames to characters, as she nicknames Asuka "Princess" and Shinji "Puppy Boy". Someone similar to Mari can be seen with Shinji's mother in the photo shown to him by Fuyutsuki, though the link between this person and Mari is currently unknown. It could suggest that Mari may be much older than she lets on, possibly suffering from the "Curse of Eva" for a longer period of time than Asuka. She also refers to Gendo as "Gendo-kun", suggesting she knows him. Before the Fourth Impact is initiated, she fights against Mark.09 one more time. She makes her last appearance when she uses Unit-08 to remove Shinji from inside the Evangelion 13, yelling at him to be a man and get to know the world a little before his entry plug is finally removed.[15]
In Evangelion: 3.0+1.0 Thrice Upon A Time, Mari is part of Paris Assault Mission to restore part of Paris and recover a large supply cache. She is able to defeat the NERV attackers, at the cost of Unit-08's legs. Mari meets Asuka and Shinji when the AAA Wunder comes to pick them up. Upon greeting Asuka, she teases her about her unresolved feelings for Shinji, "I thought you didn't care about boys his age", to which Asuka responds that Shinji "needs a mother, not a girlfriend". Before their mission in Antartica, Mari re-introduces herself to Shinji. When Shinji expresses he understands why Asuka was angry at him, Asuka recognizes he has grown up, and Asuka confesses she did love him back then. Mari congratulates Shinji, and asks Asuka if she feels better, to which she affirms.
During the final battle against NERV, Mari pilots the repaired Unit-08γ supporting Asuka against a wave of NERV Evangelion Mark.07. She remains puzzled at Gendo's plans. When Asuka is absorbed by Evangelion 13 and Shinji is preparing to pilot Unit 01 again, Mari takes Unit-08γ in an "overlapping state" and merges it with Mark.09, Mark.10, Mark.11, and Mark.12, and uses it to fight a new horde of Mark.07. She tells Shinji to once again "save the Princess". Mari then meets Fuyutsuki, referring to him as "Fuyutsuki-sensei", further alluding to her familiarity, and he calls her "Maria Iscariot".
Attempting to stop Instrumentality, Mari sacrifices her combined Evangelion. During Gendo's Additional Impact, Mari is shown to have been a friend of Yui Ikari and Gendo in college and helped get them together. When Shinji talks with Asuka and expresses his feelings, Mari bids farewell to Asuka. Shinji is sitting on the beach when Unit-08γ emerges from the ocean. Mari takes her glasses off and comments "Just barely on time". Shinji gets up and runs in her direction. Inside the ocean, she thanks Unit 8+9+10+11+12 while Unit-08 and Mari thanks the "Final Evangelion". She emerges from the ocean and puts her glasses back, saying "I have kept you waiting, Shinji".
In the final scene of the movie, Asuka, Rei and Kaworu, as adults, are in the other platform of Ube-Shinkawa Station train station in the city of Ube, Yamaguchi Prefecture, Japan. An adult Shinji is sitting on a bench with his bag wearing a suit, when Mari covers his eyes and asks who is it. Shinji replies, referencing their earlier encounter on the Wunder. Mari, also adult, is wearing a pink blazer. Mari walks up Shinji and approaches his neck facing his front and smells his neck: "The smell of an adult". Shinji initially looks annoyed but replies confidently, to Mari's surprise, and she removes his DSS Choker.[16] She offers her hand and says, "Well then, lets go, Shinji-kun." and Shinji agrees, leaving the main gate and guiding him to the new world as they let go of each other's hands.[17][18][19][20]
Other media
She has something of a counterpart in the light novel series Neon Genesis Evangelion: ANIMA named Mari though their history is completely different and the Mari in ANIMA is a genetically altered human whose genetically fused with animal DNA, however, Mari of Rebuild has several jokes also revolving around felines and cats, possibly in reference of the ANIMA series character (who can also be seen as a "Destroy Eva" character).
Another version of the character called Mari Makinami appears in the Extra Stage: Eden in Summer of the Neon Genesis Evangelion (manga). The manga author, Sadamoto, insists it is simply fanservice and not canon to the manga or the Rebuild films.[21]
She is also featured in the Super Robot Wars videogame crossover series along other Eva characters.[22]
Character notes
This article needs to be cleaned up. You may review the
Manual of Style
for suggestions.
Name
Mari is named after two World War II warships, the Japanese destroyer Makinami (巻波, "overflowing waves") and the British aircraft carrier HMS Illustrious. The two names may be intended to, as in Asuka's case, represent a mixed heritage: here, British and Japanese (at minimum). Strictly speaking, neither "Illustrious" or "Makinami" (written as 真希波, "noble true wave") are real surnames,[23] although this may be nothing more than a creative liberty. Originally, Anno considered naming her Mariko, borrowing from one of his wife Moyoco Anno's manga, but instead opted for using the name of Mari Sakurano, from Brave Raideen. Mid-way through productionh Anno also considered changing Mari's name yet again to Chizuru, as a homage to Chizura Nambara from Combattler V, and as a gesture to please "Shō-chan", refering to his friend and colleague Shōji Kawamori, creator of the Macross mecha franchise. The choice of Mari was also done as a nod to another friend of Anno, Yutaka Izubuchi, creator of RahXephon. Izubuchi speculated that another character from Raideen served as inspiration for Rei and Asuka. This characer's name was Rei Asuka. By finally making a reference to Raideen, Anno felt, Izubuchi could "save Buc-chan[Izubuchi]'s face."[24][25]
Her first name was originally unveiled in the Nintendo DS Petit Eva: Evangelion @ Game game.[26] Later, one of the official movie posters included a "teaser" for her full name: showing the "Mari" part, and substituting the remaining characters with asterisks ("*** Mari *******"). Mari's entire name was at last revealed in a revised version of the poster included with the first issue of Eva Extra.[27] Before her actual name surfaced, Mari was known exclusively among fans as "Glasses Girl" (among Japanese fans, めがねのこ, megane no ko, meaning the same thing). She caused a furor among fans after months of teasing and her ultimate reveal.[28][29]
Development
Mari's character has a tumultuous development history, with Chief Director Anno knowing little more of his intent for her than that he wanted her to "destroy Eva". Unlike the others, her character was not Anno's idea, but rather the result of an explicit request by the producer, Otsuki, for a new main female character. Anno accepted it as a way of differentiating the Rebuilds from the anime series, but believes it was for commercial reasons.[30] Tsurumaki ended up taking inspiration from his previous work in FLCL and Diebuster.[31][32] Anno initially intended to make Mari a rather isolated charcater, devoid of relationships, but could not refrain from making her to much like the series' original characters, so decided to hand her development to others. Assistant director Kazuya Tsurumaki ended up shouldering much of the responsibility for Mari, and Yoji Enokido was also recruited during a writer's retreat to provide an outsider's opinion - Enokido is considered an outsider, and Mari's characterization ended up being mostly his and Tsurumaki's brainchild.[33] This is in contrast to the existent NGE characters, which were all based on Anno himself to varying degrees.[34][35]
Much of the disagreement revolved around how (and how much) to integrate Mari into the preexisting Eva framework, and the nature of her personality.[36] In the very first drafts, Mari was to do little more than appear in the pre-title Third Angel sequence and to later observe the Tenth Angel's destructive power (the latter idea shown in the first movie's trailer for 2.0), and Anno kept Asuka's role relatively intact relative to her NGE self, and she'd remain the focus of the film much like the corresponding Action Arc of the series.[5] Various ideas were tested in early script drafts and storyboards wherein Mari took over part of another character's role from NGE, which was eventually abandoned due to the desire to give Mari her own identity. At first, Anno kept Asuka's role relatively intact relative to her NGE self Her personality changed from various different themes, like being a mysterious and quiet girl, or the dojikko archetype of a clumsy and careless girl, all in an attempt to differentiate her from Rei and Asuka.[35] Anno decided to inpinge some relationships from other characters into hers in order to give her more spce, for instance, Kaji and Asuka's relationship was entirely removed from the film and replaced with Mari's "subordinate" role to Kaji.[37] Other suggestions slowly began to surface as Anno could only give vague directions to his writers - one of his first was that the character should be an "Onee-san" or be an animal lover. The ideas were so generic and vague that Tsurumaki considered Mari to have had "multiple personalities"; "a different character in each scene she appeared in", making it difficult to give her a consistent characterization and psychology. Tsurumaki in particular felt she'd simply end up simply repeating Shinji's relationships with other characters and consuming their personalities. In the storyboard of the preparatory manuscript drawn by director Masayuki, there is a scenario introducing her to Shinji and others as the "Fourth Girl" at the 8th Apostle War Prewar Strategy Conference. In another storyboard, Mari would have pushed up her glasses in the same manner as Gendo.[38] Anno decided to postpone discussion at the time. It was during this "script retreat" that Enokido was brought in as an outsider.
In response to mounting pressure from fans after her first teased apparence during the preview at the end of Evangelion 1.0, Anno progressively increased her role and space in the story. Tsurumaki noted she'd be a character of "minor importance" originally.[39][40][41] Most of the new ideas ended up discarded and rejected by the rest of staff, who couldn't come to a consensus. In draft number 7, for instance, Mari would pilot Unit-02 together with Asuka in the same entry plug, in draft #11, Mari was depicted as an European classmate of Asuka's. Other ideas included playing up to stereotypes of her British nationality, like her first meeting Shinji in a train station, or having tea time on the roof of the school in draft #13. Tsurumaki felt particularly unsatisfied, and felt that Mari could never be distinct enough from Asuka, Rei or Misato. Tsurumaki eventually came up with the idea of her falling from the sky by way of parachute, as a way of having her do something bizarre and different.
Enokido was asked for his input, and he suggested Mari to be a "neutral and lighthearted" character inspired by harem and shounen manga.[42] Enokido's suggestion was that Mari should serve as a rival for Asuka who ultimately usurps her. Enokido wanted to go so far as to have Mari become the main pilot for Unit 02, say anta baka to Shinji and even kiss him, though this was eventually discarded by Anno and other writers. Tsurumaki, in particular, protested one of the proposed alterations as "I'm an Asuka fan, and I won't be happy if this scene gets cut".[35] Enokido also suggested for Mari to be full of tattoos symbolizing her dead pets.[43][44] Anno's assistant, Ikki Todoroki, suggested scenarios like her being a guest at Hikari's house, and a rival with Asuka for Kaji's affections and control of Unit 00, beating her in a synch test. One inspiration for her demeanour were the miko women of Shinto temples.[45] These indecisions led to about forty revisions of the script in total, and the writers were mostly forced to come to an agreement when repeatedly reaching deadlines. Overall, much of Mari's character ended up as Enokido's brainchild, borrowing or cannibalising other characters' traits and scenes.
Design
Similary to his other attempts to distance himself from Mari's conceptualization, Anno gave initially vague settei to Sadamoto and Tsurumaki. In one of her old character designs, her plugsuit is numbered 04 instead of 05 like she appears initially in the movie. Anno requested her design be based on a "Christian Missionary-style". Other early designs included a Victorian version of Mari, playing on English stereotypes, and her checkered skirt was in reference to Scottish stereotypes. Her early association with green and use of tights was in reference to pictures of British schoolgirls Anno brought to Sadamoto when he asked for references. Initially, he also considered giving her a long-sleeved blazer.[46][47] Sadamoto concluded that her glasses were a simple but effective way to differentiate her from the other main female characters.[48] Mari was intended to attract a new kind of fan, and a character that could be "broken". [49][50] Additionally, Anno thought Mari's glasses were a good way to showcase their animators' talent, as it was much harder to animate them in the original series. Harkening back to his experiences with FLCL, Tsurumaki had also attempted at the time to differentiate female character Haruko from Evangelion characters, particularly Misato, and avoid comparisons, further solidifying his leading role in conceptualizing Mari.[51]
At first, Sadamoto simply merged Asuka's and Rei's characters; however, he himself was dissatisfied with the result, thinking the character was too derivative. To visually distinguish her from the two protagonists of the series, he gave her straight, dark hair and a taller head and body than her colleagues. The eyes instead were designed to be long and well defined, so as to give her a more kawaii look. He opted for a hairstyle with two braids, but since Asuka also has hair with two braids, Anno suggested moving the springs of the braids down, adding a band. For the posture and hairstyle, inspiration was taken in particular from those of actress Yui Aragaki, who played Umemura Hikari in the dorama My Boss, My Hero. Anno decided to make the character wear two different combat suits, one old and one new generation, as a further element of detachment from the other pilots.
In the very early stages of production, staff considered a plugsuit in green, indigo or yellow, and then moved to pink, a color popular in anime, giving her a touch of femininity. Sadamoto later noticed that, compared to the white and red models of Rei and Asuka, pink has less visual impact, which is why he then gave her a more "scandalous" color, so for her reveal in the green plugsuit, he opted for green, which he also associated with England, from British racing green.[46] The proposal was made by the colorist Kikuchi Kazuko, and was immediately welcomed with fervor by Sadamoto. Its design was inspired by the green uniforms of the Gamilas from Space Battleship Yamato, as well as by some spacesuits from the TV series UFO, and the space suits of Soviet cosmonauts. Sadamoto attempted to give her a sleekier, more modern design that'd feel updated, but still similar to the existing pilots' suits. Anno decided to give it a helmet as well, in order to cover the face until the end of the battle and create a dramatic effect for her reveal; for the design of the helmet Sadamoto took inspiration from those of track cyclists, much like Misato's motorcyclist-inspired[52] jacket. The design of the lower part of the suit, however, traced that of fencing suits, feeding the idea of a girl belonging to European aristocracy, and more mature than the other pilots.[53][54] There are several nods to her age being in fact much older than the other pilots.[4][5][6]
Sadamoto had considerable impact in her earlier characterization as well. Due to his experience in the Evangelion manga, staff valued his input in how to handle the reduced space for characterization the movie format gave them. Producer Ohtsuki also complained to Anno that they had not yet decided on a voice actress even by the time the recording stage of production was imminent. Ohtsuki asked other staff for suggestions, and using Maaya Sakamoto, a famous voice actress that Sadamoto, Enokido and Tsurumaki worked with before on Diebuster but had no familiarity with Eva was Sadamoto's idea. Maaya Sakamoto was called and selected without an audition or explanations, and would only then receive some information on the character.[5] Sakamoto, after trying hard to interpret the character, concluded from explanations by Anno and Tsurumaki that she'd play the character as an "alien" element to Evangelion.[55][56] Sakamoto says she herself still has difficulty understanding Mari's character an that she's full of mysteries, an opinion shared by Ogata, Shinji's voice actress.[18] She says Anno shared several important details with her, but she says she won't reveal them: "I'll take it to my grave".[57] Moyoco Anno has commented on associating herself with Mari, on her paid fan newsletter, from April 2nd: Don't compare me with Mari. It's great that people are talking about "Shin Evangelion" and their thoughts on it, but... But please don't compare me to the work any more than you have to. Please don't make me feel uncomfortable about it., as well as Khara staff's denial and Anno himself. Instead, they link her to Tsurumaki's decisions.[58][59][60] A year later, Anno emphatically denied this rumor yet again, and complained at the insistance some fans had and the harassment he was getting over it.[61]
References
Mari Makinami (真希波マリ[?], "Makinami Mari") is a fictional character appearing in the Extra Stage chapter of Volume 14 of Neon Genesis Evangelion manga called Eden in Summer.
Appearance
She is a sixteen year old girl that has long hair and is usually seen wearing denim shorts, a short sleeve shirt and short boots. She also usually carries a bag with the things she uses in university. When she goes visit Kōzō Fuyutsuki office, she uses a white coat over her clothes with sleeves rolled up her elbows. After she and Yui Ikari talks in the office after chasing around the rats that got loose, Yui fixes her hair in pigtails and also gives her glasses to Mari. Making her similar to Mari Makinami Illustrious, but her body seems to be way less developed than her, mainly in her breasts area.
Story
Kyoto, 1998. In the Metaphysical Biological Research Lab 1 of Kyoto University, Mari sees Yui Ikari sleeping and drooling over the table and says that she hates her and snatches her glasses when another colleague says that the Dean is looking for her. In the Dean's office, she is told that the Professor Alex's Team at Saintford University in England is looking for exceptional researchers and they will cover all the costs for her to move and study there. When the Dean looks at her grades, he says that he has no problem in recommending her if she wants, but Mari says that there is someone more qualified for that position, that person being Yui Ikari. When she asks why he won't recommend her when Yui is more talented than her, the Dean says that she is a special case, where the State won't ler her go. She was already asked to join a government-run research institution.
After that, Mari, Yui and another colleague are drinking beverages in the campus when Yui complains about her missing glasses. The colleague says that the other students are in tears since she ended up dating Gendo Rokubungi. Yui says that she thinks that he is cool and talks about how they met at the cafeteria and how they got to know each other more and more even with his scowl and bad attitude. Mari annoyed, takes her things and leaves, saying she got classes to go. The colleague says that she is probably jealous since she was always the best and in the university, she met someone who she couldn't surpass. In the hallways, she pass over Gendo and she blushes as she passes over him.
In a later time, she goes to Fuyutsuki's lab room to deliver a paper and find that Yui set free the lab rats by trying to reach some papers at the top shelf and fell on the cages. Mari and Yui tries to get all the rats back in the cages. After getting a rat from Mari's head and messing up her hair, she tried to fix her hair and Mari drops her bag with Yui's glasses that were inside. Yui asks her why she got her glasses and Mari says that she hates Yui and she admits that she is jealous of her and she hates that she acts the same way even when she realizes that she likes her.
Yui tells her to sit and that she will fix her hair and Mari apologizes for saying that she hates her and she says that she is going to study abroad in England in the next month. Yui tells her to keep the glasses if she wants and puts it on her saying she is cute, looking like a high school kid. Mari wishes her and Gendo the best from a faraway place and Yui thanks her.
Development
Yoshiyuki Sadamoto has, however, clarified in an interview that the extra chapter and Mari's inclusion in it should not be seen as a part of neither the manga nor the Rebuild series' storyline, stating that it was something he purely did for "fun", comparing the chapter to "fan service".[1][2] He mentions that he "couldn't use her in the manga", when talking about Mari in the Rebuilds. This further solidifies them as separate characters.[3]
Trivia
Mari is named after the World War II warships, the Japanese destroyer Makinami
Notes and references
↑ Interview with Sadamoto, includes his confirmation that the Mari bonus chapter was just fanservice Next question is about Evangelion Rebuilds, do you know about the symbol of the last movie (repeat sign in music)?:
Sadamoto: Just to start, I'd like to clarify my position on the Rebuilds. I've only done the main character designs so… (laugh)
Ah I see. It's this (shows the symbol of Rebuild 3.0+1.0). We weren't even able to read the title.
Sadamoto: (looks) Right, I'm sorry but it's the first time I see it, to tell you how little my implication is.
[...]A question about the Evangelion manga, were you completely free on the script or were you consulting director Anno?
Sadamoto: There isn't any script. When you make anime there are the storyboards, right? We were just sharing them, so I'm on the same level as a fan. I just wrote it on my own, looking at the storyboards. So I didn't consult anyone, and of course no one from the TV series' staff intervened in my manga.
So, in the last page of the manga there is Mari, one of the Rebuild's characters…
Sadamoto: Oh, that's not in the storyline, it's just an extra chapter for the manga volume. It's even apart from the movies, like fanservice. Just something you mustn't think too hard about. (laugh) It's just something that went through my mind, I thought it would be funny if it were like that.
I see. So it was not a request?
Sadamoto: It wasn't and… since she appeared in Jo, Ha and Q, I wondered what her role in the story would be, and when I asked the staff, they told me that it won't be possible to really go further in one film, so they had to tie the main story up, and that Mari may have almost no screen time. So I wondered what the point was, and decided to add a little bit of her story in the manga, on impulse. So it's really not something the staff of the movies thought about or asked me to do, just something you can consider as a play of mine.
I see, since you know, fans tend to read deep into that kind of thing.
Yamaga: Yeah, particularly on Evangelion. They think every little detail has a meaning. (laugh)
Sadamoto: Well, but of course when we see Mari in Jo or Ha and see her call Gendo Gendo-kun or smell Shinji's odor, she's doing many strange things. Besides she seems to like songs of the Showa era very much since she's singing them. [...] But again, it's only me imagining all this. (laugh)
Has director Anno decided about that?
Sadamoto: Like I said, director Anno hasn't approved or refuted that idea, he has nothing to do with what I just said.
↑ PR.- Is that appearance part of the character's development in the movies?
YS.- Ah! What I just answered is not official, it was my point of view (laughs) The truth is that the love story of Mari and Yui came up while chatting with the scriptwriter of Evangelion as something that could be interesting and curious but we should not give it much more importance (laughs). - Yoshiyuki Sadamoto Interview (AlfaBetaJuega 2017/07)
↑ On the one hand we wanted to create a different character, one that would appeal to a new type of audience and mark a break in the story. There were both "market" and plot requirements, and I had to keep them in mind. In the movies there is a great mystery around her presence, which is why you only find her there. I couldn't use her in the manga, although I would have liked to. She'll be up to a lot of mischief, together with Asuka, so wait for the new movie, because there will be surprises and a lot of interesting characters. Sadamoto Days – i fan meet e l'intervista (2013)
There exists much information that should be added to this article. You can help by
expanding it
.
For Mari from the Rebuild series see, see Mari Illustrious Makinami.

Mari (マリ[?]) is a fictional character from the Evangelion: ANIMA novel. She shares the same name as Mari Illustrious Makinami and looks like a young version of her, the two don't seem to be literally related. She pilots the US Evangelion/Wolfpac.
Background
She is an artificial human and an Evangelion pilot created by the US branch of NERV. The fact that she has cat fangs, cat ears and cat tail comes from the animal genes used in her creation (this also seems to be a parody of the Mari from the Rebuild continuity who is often shown with a cat-like face). This also makes her say that she is with a group of creatures that are merged together. As Rei Six loves animals and is at the same age as her, the two are shown to be good friends.
Events of ANIMA
Rebuild of Evangelion
Artwork
Games
Pachinko & Pachislot
Collaborations
Wallpapers
Others
Click to show galleries if on mobile: