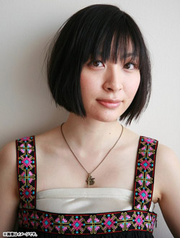 Maaya Sakamoto (坂本 真綾 Sakamoto Maaya, born March 31, 1980) is a Japanese actress, voice actress and singer. She made her debut as a voice actress in 1992 as the voice of Chifuru in the anime series Little Twins, but is more well known for her role as Hitomi Kanzaki in the hit anime series The Vision of Escaflowne. She released her debut single Yakusoku wa Iranai, in collaboration with Yoko Kanno under Victor Entertainment on April 24, 1996.
Since her 1996 debut, she is among the more popular voice actresses who have also branched into singing, performing songs in both English and Japanese. As well as being a prolific seiyū, she has also had several successful releases; despite initially only modestly selling, her singles Tune the Rainbow, Loop, Ame ga Furu, and Triangler have all reached the top 10 Oricon singles chart: Triangler in particular charted at #3 and remained charting for 26 weeks. Her albums have had similar success, with Shōnen Alice and Yūnagi Loop both reaching the top 10 Oricon albums chart; and her newest album, You Can't Catch Me, released on January 12, 2011, became her first release to ever reach #1. She held a concert at the Nippon Budokan on March 31, 2010, her thirtieth birthday.
On August 8, 2011, Sakamoto married fellow voice actor and frequent co-star Kenichi Suzumura. She announced their marriage on her official site five days later.
A selection of other roles played by Maaya Sakamoto
Binbo Shimai Monogatari as Kyo Yamada
Canaan as Alphard
Death Note as Takada Kiyomi
Ghost in the Shell as Motoko (little)
Ghost in the Shell: Stand Alone Complex as Motoko (little)
Gundam SEED Destiny as Lunamaria Hawke
Kara no Kyoukai as Shiki Ryougi
Macross Frontier -The False Songstress- (Movie) as Ranshe Mei (Ranka Lee's Mother)
Ouran High School Host Club as Haruhi Fujioka
RahXephon as Reika Mishima
Vision of Escaflowne as Hitomi Kanzaki
Fate/Apocrypha as Jeanne d'arc (Ruler)
Danganronpa V3: Killing Harmony as Maki Harukawa
Notes
She speaks a pretty fluent English. This can be shown in Evangelion 2.0: You Can (Not) Advance.
Started career as a child actress, but in the 1980s was later involved in ADR (additional dub recording) work in adapting Western films to Japanese.
Sakamoto is one of the few voice actresses ever to perform live at the Nippon Budokan.