This article largely borrows its content from another wiki, such as Wikipedia or EvaGeeks. Substantial cleanup and reformatting may be needed.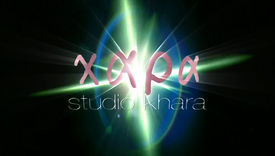 khara inc. (株式会社カラー[?], "Kabushikigaisha Karā") is a Japanese anime production company most well known for its work on the Rebuild of Evangelion tetralogy of films in conjunction with Gainax; Studio Khara (スタジオカラー[?], "Sutajio Karā") is the primary animation production studio for the films. It was founded by Hideaki Anno in May, 2006, and was first mentioned publicly on 1 August when recruitment notices were posted on Anno's website; Anno remains its president.[1] It has built up appropriate infrastructure and has offices in West Shinjuku.
The name khara comes from the Greek word χαρα, meaning joy.
While Anno was one of the founding members of Gainax, he seems to be leaving it and heading Khara; as part of his public statements on the Rebuild films, he wrote:
"For this purpose, we are not returning to our roots at Gainax. I have set up a production company and studio, and it is in this new setting that we will start again. Without looking back, without admiration for the circumstances, we aim to walk towards the future. Thankfully, we have gathered staff from the old series, new staff, and many other fantastic staff to work on this series. We realize that we are creating something that will be better than the last series." [2]
Works
Movies
References
External links