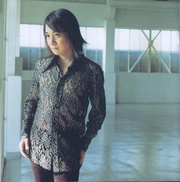 Hiro Yūki 優希 比呂 (Yūki Hiro[?]) (born Teruhisa Tsuyusaki 露崎 照久 (Tsuyusaki Teruhisa[?]), February 13, 1965 in Tokyo), is a Japanese voice actor.
In June 2007, Yuki changed the spelling of his name to 優希比呂 from 結城比呂, which still reads as Yūki Hiro. In addition, he is no longer affiliated with any agency but in 2009 he joined Ken Production under the supervision of Kenji Utsumi's Regards.
A selection of other roles played by Hiro Yūki
Dragon Ball as Dende
Haou Taikei Ryū Knight as Adeu Waltham
Mobile Suit Gundam SEED as Clotho Buer
Nerima Daikon Brothers as Yūkel Hakushon
Pokémon as Dorio
Star Ocean EX as Claude C. Kenni
Weiß Kreuz as Omi Tsukiyono
Notes
He is the official Japanese-dubbing voice actor for Stan Marsh in South Park.
He is part of the voice actor quartet Weiss which also consists of Weiss Kreuz voice castmates Tomokazu Seki, Takehito Koyasu, and Shinichiro Miki.