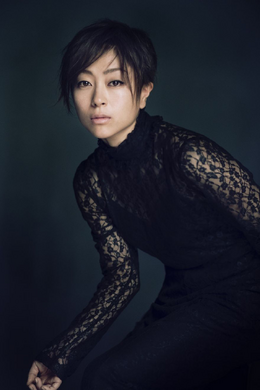 Hikaru Utada 宇多田 ヒカル (Utada Hikaru[?]), born January 19, 1983, in Manhattan, New York, United States to Japanese parents, record producer Utada Teruzane and enka singer Keiko Fuji, they are a Japanese-American J-Pop singer-songwriter.
At the age of 16 years old, they made their name as one of Jana's top artists with their debut single "Automatic/time will tell" released on December 9, 1998 which sold over two million copies. Just a few months later, they released their first album "First Love," which set the record in CD sales in Japan. This record still remains unbroken. In early 2001, they released their album Distance which spawned Utada's biggest hit singles "Addicted to You", "Wait & See (Risk)" and "Can You Keep a Secret?", which became million-sellers. The album was commercially successful and broke several sales records, instantly becoming the country's fastest-selling album.
All of their albums that followed have topped the charts. In 2007, their single "Flavor Of Life" set the world record in number of downloads.
In 2010, they took a break from their music activities to focus on their life as a person. In April 2016, they went full-throttle with their artist activities by releasing the singles "Hanataba Wo Kimini" and "Manatsu No Tooriame."
References