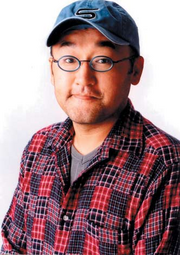 Fumihiko Tachiki
(立木 文彦 Tachiki Fumihiko, born April 29, 1961 in Nagasaki Prefecture) is a Japanese voice actor and narrator. Formerly a blues singer and known for his low voice, Tachiki is best known as the narrator for the pre-fight movies for Pride Fighting Championships and currently for Dream (Japanese broadcasts only.)
In 2003, he teamed up with Toshiyuki Morikawa to form the band "2HEARTS", one of their works being the opening theme of Blue Seed (under the name "Takada Band").
As part of the band "2HEARTS" with Toshiyuki Morikawa, one of their songs was featured as an ending theme for the video game "Dynasty Warriors 4: Empires"
A selection of other characters voiced by Fumihiko Tachiki
Edit
Bleach as Zaraki Kenpachi
El Cazador de la Bruja as Ricardo
Gungrave as Bunji Kugashira
Lucky Star as Neary every misc. male character
Tsukuyomi: Moon Phase as Vigo
Detective Conan as Vodka
NANA as Ginpei
One Piece as Don Krieg
Gintama as Hasegawa-san
Serial Experiments Lain as Commander
Sugar: A Little Snow Fairy as Choro-sama (aka Elder) and Joe the Crow
Yakitate! Japan as Yuuichi Kirisaki
Community content is available under
CC-BY-SA
unless otherwise noted.