This article has a collection of images to further represent its content. To see its gallery, visit Evangelion: 3.0+1.0 Thrice Upon A Time/Gallery.
| | |
| --- | --- |
| | This article pertains to as-of-yet unreleased content. Please refrain from adding speculation or unverified information. |

Evangelion: 3.0+1.0 Thrice Upon A Time (シン・エヴァンゲリオン劇場版:||) is the fourth and final film in the Rebuild of Evangelion movie series. It was originally to be released alongside 3.0 as one film, but will now be released separately. The musical symbol title could either mean "End Repeat", or simply "End" if the colon is part of the title.
Delays and Eventual Release
[
edit
|
edit source
]
It was previously slated for fall or winter of 2015[1]. The film has been delayed most recently by the absence of Hideaki Anno while he was working on Toho's Shin Godzila (Shin Gojira)
In September 2014, the title card of the film was updated on the official film site, the new title is "Evangelion 3.0 + 1.0".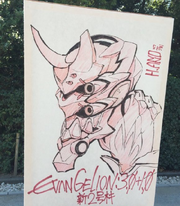 In an interview posted on YouTube from June 2017, Hideaki Anno stated that the film would be released between March and April of 2018.
At the end of July 2017, a new teaser poster (featured on the left) was posted on the official Evangelion website saying that the movie was in production by studio Khara.
On August 6, 2017, pictures of a new Eva-02 form illustrated by Hideaki Anno from the annual lantern festival surfaced as a teaser for the movie, much like for the previous one.
On July 24, 2018, a teaser was shown before the screening of Hosoda's new movie, "Mirai no Mirai". This teaser revealed that 3.0+1.0 is to be released in 2020.[2]
On March 20, 2019, Studio Khara revealed on Twitter that dialogue recording had begun for the film, showing a picture of Hideaki Anno's script.[3]
On June 24, 2019, Toei announced that the first 10 minutes of the film would be shown at Japan Expo in Paris, Anime Expo in Los Angeles, in Shanghai, and in various locations across Japan on July 6. The showings will be screened simultaneously to Japan, Los Angeles, and Shanghai live from Paris.[4][5] In Paris, the showing will take place at Anime Expo's Yoko Takahashi x Evangelion Stage presentation. In Japan, the showings will take place in two Tokyo locations, Sapporo, Nagoya, Osaka, and Hakata. In Shanghai, the showing will take place in Jingán District after a screening of Evangelion 3.0. Similarly to Shanghai, Anime Expo in Los Angeles will have their showing after a screening of Evangelion 3.0. Additional information, including specific venue locations for Japan, will be revealed on the EVA-EXTRA app as part of the "Operation 0706" project the screenings are tied into.[6][4]
On July 18, 2019, during showings of Makoto Shinkai's new film, "Weathering with You"[7], a new preview for 3.0 + 1.0 was revealed announcing a June 2020 release. The preview was later posted officially online.[8]
On April 17, 2020, it was announced that due to COVID-19, the movie release would be delayed. No new release date was revealed.
On October 16, 2020, it was revealed that the movie would be released in Japan theatres on January 23rd, 2021, alongside a new preview.[9]
On December 25, 2020, a new preview featuring more scenes from the movie was released.
On January 14, 2021, it was announced that due to COVID-19, the movie release would be delayed again, including the soundtrack by Shiro Sagisu. No new release date was revealed.[10]
Planning/Original/Screenplay: Hideaki Anno
General Drawing Director: Atsushi Nishigori
Drawing Director: Shuichi Iseki, Sejoon Kim , Naoyuki Asano, Masayoshi Tanaka, Kouichi Arai
Deputy director: Touko Yatabe, Daizen Komatsuda
Design Works: Ikuto Yamashita, Shigeto Koyama, Moyoco Anno, Takeshi Takakura, Takashi Watabe
CGI Art Director: Hiroyasu Kobayashi
CGI Director: Daisuke Onizuka
3D Animation Director: Yusuke Matsui
3D Modeling Director: Manabu Kobayashi
3D Technical Director: Takashi Suzuki
3D Look Dev Director: Masanori Iwasato
2DCG Director: Kayoko Zama
Video Inspection: Yasuhito Murata
Color Design: Kazuko Kikuchi (Wish)
Art Director: Tatsuya Kushida (Director), Toru Fukushi (T2 studio)
Special Director: Toyonori Yamada
Editing: Emi Tsujida
Music: Shiro Sagisu
Sound Effect: Toru Noguchi
Recording: Makoto Sumiya
Dialogue Director: Yo Yamada (sound team Don Juan)
General Director Assistant: Ikki Todoroki
Production Supervising Producer: Takatoshi Okajima
Animation Producer: 川島正規
Set Production: Hayato Tanaka
Previs Production: Seiki Kawashima
Production: Khara inc.
Distribution: Toho Co., Ltd., Toei Company, LTD., Khara inc.
Advertising: Khara inc.
Production: Khara inc.
Executive Producer: Tomoyuki Ogata
Concept Art Director: Mahiro Maeda
Director: Kazuya Tsurumaki, Katsuichi Nakayama, Mahiro Maeda
General Director: Hideaki Anno
The preview at the end of Evangelion 3.0 shows the Evangelion Unit 8+2 (an Eva bearing half the helmet of Unit-02' and half the one of Unit-08) fighting against unknown enemies (looking like green versions of the Mark.06), near the fallen Black Moon. Eva-8+2 succeeds in cutting down several Evangelions with a weapon that resembles the Magorox Sword, as well as defeating some in hand-to-hand combat. The Evas appear to try to engage Eva 8+2 but do not attack in coordination or with much force, for unknown reasons.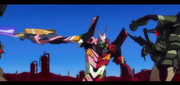 The Evas are equipped with large assault rifles akin to those used in the original series, although these rifles appear to have progressive knives attached to them as crude bayonets. The unknown Evas are not shown to use these firearms, which makes it easier for Eva 8+2 to defeat them. A much larger group of unknown Evas is seen surrounding the fallen Black Moon, projecting several enormous A.T. Fields of unprecedented size.
The title "Thrice Upon A Time" may be a reference to the book of the same name, released in 1980. The main plot of the book revolves around sending messages to the past, and/or receiving them from the future.
In the 2020 Lantern Festival, Hideaki Anno introduced a new Evangelion Unit that will be present in this movie : the Evangelion Mark 101
In the new trailer for Evangelion 3.0+1.0, it was revealed that Evangelion Mark 10 has the same colour scheme as Eva Mark 09 or Eva 00.
The English logo is handwritten by Hideaki Anno.[12]
Community content is available under
CC-BY-SA
unless otherwise noted.