This article has a collection of images to further represent its content. To see its gallery, visit Evangelion: 1.0 You Are (Not) Alone/Gallery.
Evangelion: 1.0 You Are (Not) Alone (ヱヴァンゲリヲン新劇場版:序[?], "Evangerion Shin Gekijōban: Jo") is the first film in the Rebuild of Evangelion movie series. It premiered in Japan on September 1, 2007. It was written by Hideaki Anno and directed by Hideaki Anno, Masayuki and Kazuya Tsurumaki.
Overview
Evangelion: 1.0 You Are (Not) Alone is a retelling of the original series from episodes 1 to 6. While the later movies diverged from the plot of Neon Genesis Evangelion, 1.0 stayed true in many ways, from identical characterization to scenes reanimated shot-for-shot from the source material. A large change from the TV series was the use of CGI in place of traditional animation in several scenes, such as the Tokyo-3 skyline and the Fifth Angel and Sixth Angel.
Plot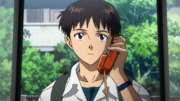 Shinji Ikari receives a message from his father, asking him to come to Tokyo-3. He is picked up by Misato Katsuragi, and taken to meet his father, at the headquarters of his organization, NERV. Meanwhile, the city of Tokyo-3 is attacked by a strange creature, the Fourth Angel. At NERV HQ, Shinji is shown what his father has been working on: A giant "robot", Evangelion Unit-01. Shinji's father, Gendo Ikari, forces him to pilot it, saying he is the only one who can. Shinji fails to defeat the Angel, and blacks out in pain, but Unit-01 goes berserk and defeats the Angel on its own.
Soon afterwards, Shinji wakes up in a hospital and is officially instated as the pilot of Unit-01, the "Third Boy". Shinji runs into problems in school with Toji Suzuhara, whose sister was injured in the battle. The Fifth Angel, attacks Tokyo-3, and Shinji is forced to battle again. He defeats it, but disobeys orders during the fight, and decides to run away. After making his way to an under construction bridge, he is brought back by NERV employees. At school, Toji forgives Shinji after his experience in the entry plug, and they become friends. Following this, Shinji interacts with his fellow pilot, the mysterious Rei Ayanami for the first time. Another powerful Angel appears, the Sixth Angel, which nearly kills Shinji with its beam attack. It then proceeds to drill down into the Geofront cavern below. When Shinji recovers, Misato takes him down to Central Dogma (instead of Terminal Dogma in the series), where she shows him Second Angel Lilith, a white giant hanging from a cross. She explains that if an Angel were to unite with Lilith, it would cause the Third Impact. This encourages Shinji to pilot Unit-01 again. A plan is developed to defeat the Sixth Angel by using all of the electrical power of Japan to power an experimental positron rifle, which Unit-01 will use to snipe the Sixth while Rei, in Unit-00, supports by blocking its attack. After his first shot fails to kill the Angel, Shinji successfully fires a second shot that destroys the Sixth Angel.
The final scene cuts to the moon, where a line of coffins lie on the lunar surface, and a giant bloodstain intersects the landscape through the middle of the row of boxes. Out of one of these rises Kaworu Nagisa, who begins talking to SEELE 01's monolith communicator. Behind them appears to be a secret SEELE moon base, with a white giant similar to Second Angel Lilith restrained behind them in a scaffolding pit. Kaworu says that the "Third" hasn't changed, and he can't wait to meet Shinji.
Characters
School
Evangelions
Angels
Staff
Chief Director: Hideaki Anno
Director: Kazuya Tsurumaki, Masayuki
Screenplay: Hideaki Anno
Storyboard: Hideaki Anno, Kazuya Tsurumaki, Shinji Higuchi (new footages), Tomoki Kyoda (new footage)
Unit Director: Hiroshi Haraguchi
Music: Shiro Sagisu
Original creator: Hideaki Anno
Character Design: Yoshiyuki Sadamoto
Art Director: Hiroshi Katou, Tatsuya Kushida
Chief Animation Director: Shunji Suzuki
Animation Director: Atsushi Okuda, Hidenori Matsubara, Kazuchika Kise, Yuji Moriyama
Mechanical design: Ikuto Yamashita
CGI Director: Hiroyasu Kobayashi
Co-Director: Kobun Shizuno
Director of Photography: Toru Fukushi
Executive producer: Toshimichi Ootsuki
2nd Key Animation: Akiko Matsuo (Yuhodo), Chiyoko Sakamoto, Harumi Takagi (Yuhodo), Hiroe Sawada (Dogakobo), Hiroko Yaguchi, In-Hee Park (GK Entertainment), Jae Hyung Kim (GK Entertainment), Lee Sang Min (GK Entertainment), Mami Hagiwara (Sakura Create), Mamiko Sekiya, Mayumi Kitamura (Sakura Create), Mi-Hee JUNG (GK Entertainment), Mitsuo Satou (Tatsunoko Production), Miyuki Shinoda (Sakura Create), Naomi Yoshida (Yuhodo), Naoyuki Asano, Ryoko Sugiura (Dogakobo), Ryōta Furukawa, Sayo Aoi (Yuhodo), Seung Hee Han (GK Entertainment), Takeshi Moriyama (Yuhodo), Tomohito Matsuhiro, Tomoyuki Kojima (Tatsunoko Production), Yuuki Hara
Animation producer: Manabu Ishikawa, Mineki Ogasawra, Muneki Ogasawara
Animation Supervisor: Atsushi Okuda, Masako Tashihiro, Yoshiyuki Sadamoto, Yuji Moriyama
Assistant Animation Director: Masako Tashiro
Assistant Director of Photography: Naho Kitsunezuka, Satoshi Namiki
Background Art: Akihiro Hirasawa,Izumi Hoki, Jun Okabe, Ken Arai, Michie Suzuki, Naoto Ozaki, Norika Kindshita, Tomomi Morikawa, Tsubasa Matsumoto, Yasutomi Kishi, Yoshio Tanioka, Yoshito Takamine, Yukiko Ono,
Brush Work:, Kaori Izumiya, Noriko Masahiko, Yuichi Kuboki
Cinematography: Chie Katō (T2 Studio), Eri Katō (T2 Studio), Jin-Hee Kim (T2 Studio), Jiro Tazawa (T2 Studio), Shunya Kimura (T2 Studio), Yuji Tone
Color Correction: Makoto Imazuka
Color Management: Kyoko Yabe
Color Supervisor: Akemi Nagao
Copyright Control: Yasuhiro Kimura (GAINAX)
Design: Hideaki Anno, Okama (Lilith, Terminal Dogma), Seiji Kio (New SEELE logo), Takashi Watabe (Sixth Angel), Takeshi Takakura (General Equipment), Yutaka Izubuchi (New SEELE logo)
Distribution: Satoshi Negami
Editing: Hiroshi Okuda
Editing Assistant: Kou Ohtake, Wataru Otake
Editing Cooperation: Chihiro Nakano, Sachiko Miki
Evangelion Modeling: Kazushi Kobayashi
Film Recording: Rei Kumakura
In-Between Animation: Aya Yamaguchi (Anime R), Ayako Oonuma, Azumi Kuniyoshi (Dogakobo), Chiaki Nakajima (Dogakobo), Chiho Fujiwara (Anime R), Eri Shikita (Wish), Eun Young Kim (GK Entertainment), Haruko Ueda (Ashi Productions), Hey Jin Lee (GK Entertainment), Joung A Kang (GK Entertainment), Ju-Hee Park (GK Entertainment), Jun'ichi Kitamura (Wish), Kanako Oikawa, Kanayo Nakanishi (Studio Takuranke), Kaori Ogawa (Wish), Kaori Oka (Anime R), Kaori Usui (Wish), Kazuhiro Kohara (Triple A), Keishirō Himeda (Anime R), Kōsuke Kobashi (Wish), Kyohei Ohyabu (Ashi Productions), Kyōko Nakajima (Wish), Maiko Nogami, Mao Yumoto (Wish), Mariko Kubo (Dogakobo), Masaaki Yamamoto (Triple A), Masahiko Inuzuka (Wish), Masashi Nishida (Wish), Misato Takasaki (Anime R), Mitsuaki Takabe (Wish), Naoki Hiramura, Rie Kondo (Studio Takuranke), Shigeru Chiba (Triple A),Shoko Nakao (Dogakobo), Takahiro Inoue (Wish), Takahiro Mizuno (Anime R), Takeshi Ohkoshi (Tatsunoko Production), Tomomi Yasunaga (Ashi Productions), Yasuko Suzuki (Wish), Yasuo Ishii (Wish), Yong Hee Kim (GK Entertainment), Young Jiang (Triple A), Yuki Kawamura (Anime R), Yusuke Suzuki (Wish), Yutaka Sugiura (Wish)
Ink And Paint Manager: Naoki Ishikawa, Yoshitaka Narasaki
Key Animation: Akiko Asaki, Atsuko Nozaki, Atsuko Sasaki, Atsushi Itagaki, Atsushi Okuda, Boo Hee Lee (GK Entertainment), Byung Hee Choi (GK Entertainment), Chan Hee Kim (GK Entertainment), Daizen Komatsuda, Eiji Suganuma, Fumi Nakamori, Hideaki Anno, Hideki Takahashi, Hidenori Matsubara, Hideto Komori, Hiroaki Gohda, Hiroyuki Ōkaji, Iwao Teraoka, Jung Chul Kim (GK Entertainment), Kanako Sassa, Kazuchika Kise, Kazuya Tsurumaki, Ken Ootsuka, Koji Sugiura, Kou Yoshinari, Kunihiro Abe, Machi Ikejima, Mamiko Nakanishi, Masaharu Uemura, Masaki Tanaka, Masako Tashiro, Masami Inomata, Masashi Kanou, Masayuki, Mimisuke Narita, Misao Abe, Morifumi Naka, Nobuaki Nagano, Noubi, Ryousuke Sawa, Sachiko Okumura, Satoshi Hattori, Sayaka Koiso, Seiki Tanaka, Shigeto Koyama, Shiho Takeuchi, Shinya Uchida, Shoichi Masuo, Shoko Asago, Shunji Suzuki, Soichiro Matsuda, Sushio, Taizen Komatsuda, Takashi Hashimoto, Takashi Hattori, Takashi Ikari, Takashi Kumazen, Takashi Mukouda, Takenori Tsukuma, Takeshi Honda, Takeshi Takakura, Tatsuya Tanaka, Tomohiro Takayama, Yasushi Inoue, Yasushi Muraki, Yoshiyuki Sadamoto, Yuji Moriyama
Key Animation Cooperation: Tadashi Hiramatsu
Line Test: Kazuki Watanabe
Mechanical animation Director: Takeshi Honda
Music Performance: Tomoyuki Asakawa (Harp)
Original Recording: Noboru Nishio
Production Cooperation: Rie Shimasue, Tomohiro Ogawa
Production Desk: Masaaki Okamoto
Production Progression: Aki Kato, Kenji Sato
Publicity Assistant: Makato Kamiyama
Recording Assistant: Keiichiro Morimoto
Screenplay Cooperation: Akio Satsukawa, Ryotaro Yoshikawa, Yoshiki Sakurai
Sound Effects: Toru Noguchi
Special Effects: Masahiro Murakami,Shin Inoie
Special Effects Director: Shoichi Masuo
Staff Roll: Hideki Takeuchi, Naruki Minami
Subtitle Timing: Yayoi Ohiba
Supervising Color Designer: Kazuko Kikuchi
Theme Song Arrangement: Hikaru Utada
Theme Song Composition: Hikaru Utada
Theme Song Lyrics: Hikaru Utada
Theme Song Performance: Hikaru Utada
2D Monitor Graphics: Digital Frontier, GEMBA, Motor/lieZ, Omnibus Japan, Orange
2nd Key Animation: Anime R, Doga Kobo, GK Entertainment, Sakura Create, Studio Kuma, Studio Wombat, Tatsunoko Production, Yuhodo
Animation Cooperation: GAINAX
Animation Production: Khara
Backgrounds: Bihou, Inc.
CG Production: Studio Khara Digital-bu
Cooperation: Pizza Hut Japan
Coverage Cooperation: Koenji Junior High School, Sagami River System Dam Management Office, Tokyo Electric Power Company
Distribution Assistance: Nikkatsu Corporation
Distributor: Khara, The Klockworx Co., Ltd.
Film Developing: Imagica
Finish Animation: Chaos Project, Wish
In-Between Animation: AIC Takarazuka, Ajiado, Anime R, Anime Spot, Ashi Productions, BONES, Doga Kobo, GK Entertainment, Hanjin Animation, P.A. Works, Production I.G, Studio Kuma, Studio Takuranke, Studio Wombat, Tatsunoko Production, Triple A, Wish
Key Animation: GK Entertainment, Khara
Line Test: Doga Kobo, Double Sky, Hayashi, Studio Elle, T. Nishimura
Monitor Work: Tatsunoko Production, ufotable
Animation Overviewer: Takeda Tomoko
Monitor Work Cooperation: BONES
Music Production: King Records
Photography: T2 Studio
Production: Khara
Publicity: Nikkatsu Corporation
Recording Studio: Tokyo TV Center
Sound Effects: Anime Sound Production
Sound Mixing: Dolby Laboratories
Sound Production: Rakuonsha
Video Editing: Q-Tec
Visual Effects: Studio Khara Digital-bu
Soundtrack
Main article: Music from Evangelion: 1.0 You Are (Not) Alone
Main article: Evangelion: 1.0 You Are (Not) Alone Original Soundtrack
The film's soundtrack was released in two formats. The first contained uncut recordings of most of the songs. The second contained every song in the film cut to sync with the on-screen length. Hikaru Utada's song "Beautiful World" is theme song for the movie, playing during the credits.
Reception
On its opening weekend in Japan, Evangelion: 1.0 You Are (Not) Alone took the #1 spot at the box office with an equivalent of $2.4 million, despite playing at only 84 theaters. Many theaters were filled to capacity[2]. The film went on to gross $15,343,699 in total earnings[3]. It currently carries a 60% (Fresh) rating on RottenTomatoes
See Also
Trivia
The first trailer for the film was released online on July 13, 2007.
A spelling error: when Misato and Shinji are in the elevator, right before it opens and they meet Ritsuko for the first time, the instructions printed next to the level display clearly say "Emargency" instead of "Emergency". Another spelling error is seen briefly during Operation Yashima, where "Storage" is misspelled "Strage". These errors have been rectified in the video release.
When announced, the tentative name of the movie in japanese was エヴァンゲリオン 新劇場版 前編 REBUILD OF EVANGELION:01, the name would change later and the Rebuild would be dropped. Overseas, the Rebuild is still used to this day, even when it isn't officially named like that.
One of the first game adaptations to use concepts and designs of this movie was the game Evangelion: Jo, which also shares the same name.
External links
References