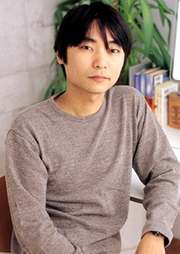 Akira Ishida (石田 彰 Ishida Akira, born November 2, 1967) is a prolific male seiyū (voice actor) born in Nisshin, Aichi, Japan.
He was a part of Mausu Promotion (formerly known as Ezaki Production, until its 1990 change of name) from 1988 until March 2009. For his portrayal of Athrun Zala in Gundam Seed Destiny, he won the "Best Supporting Character (male)" award at the first "Seiyu Awards" in 2007 and was chosen as the most popular voice actor in the Animage Anime Grand Prix in 2004 for his portrayal of the character Athrun Zala.
A selection of other roles played by Akira Ishida
Android Ana Maico 2010 (1998) as Akira
Berserk (1997) as Judou
Bokurano (2007) as Coemushi
Chrono Crusade (2003) as Chrono
D.N.Angel (2003) as Satoshi Hiwatari
Gintama (2004/2006) as Katsura Kotarou
Kiddy Grade (2002/2007) as Un-oh
Marmalade Boy (1994) as Kei Tsuchiya
Mirai Nikki (2011) as Akise Aru
Mobile Suit Gundam Seed (2002) as Athrun Zala
Mobile Suit Gundam Seed Destiny (2004) as Athrun Zala / Alex Dino
Mai-Hime (2004) as Nagi Homura
Naruto as Gaara of the Desert
Sailor Moon SuperS (1995) as Fish Eye
Samurai Deeper Kyo (2002) as Sasuke Sarutobi
Sergeant Keroro (1999-ongoing) as Saburou
Submarine 707R (2003) as Goro Kusaka
BlazBlue: Chronophantasma (2013) as Amane Nishiki
BlazBlue: Centralfiction (2016) as Amane Nishiki
Notes
Ishida originally considered an acting career after high school in lieu of studying at a university, but instead he relented after his family convinced him to study, and eventually completed a degree in drama.
However, throughout his career he kept his personal life away from the limelight.
One of the most prolific and versatile actors in the business, he once even worked on BL drama CDs.